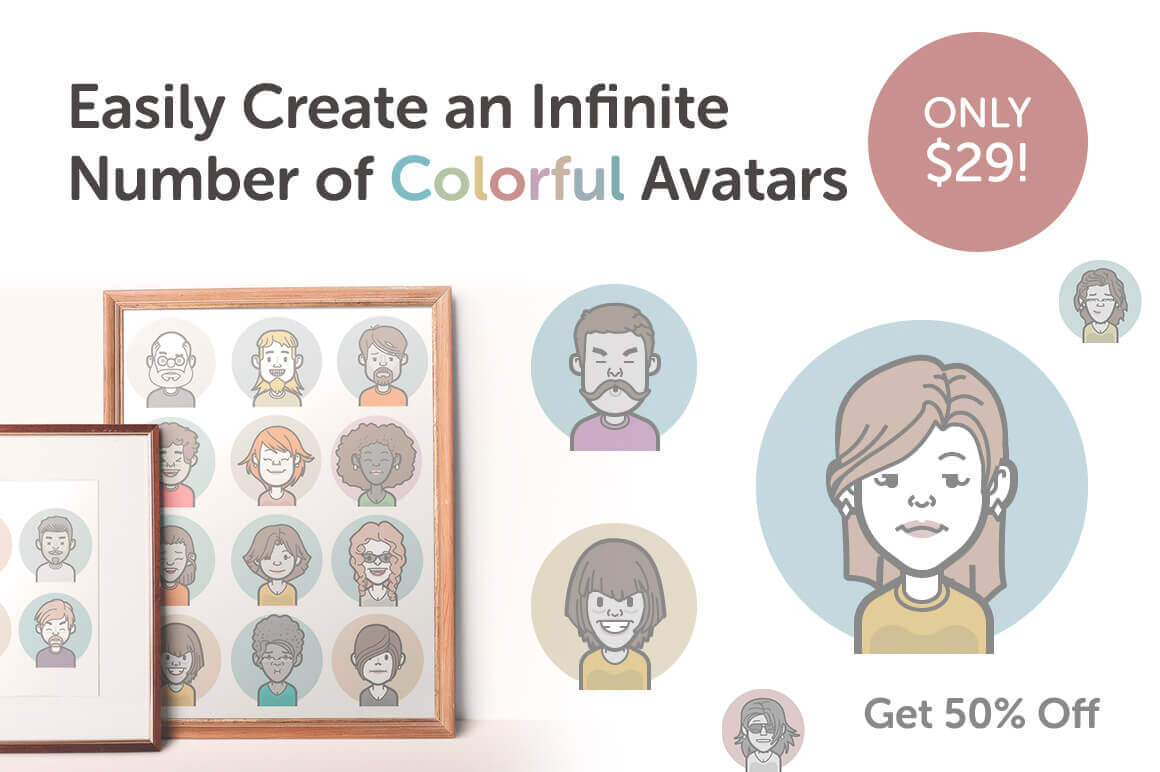 NOW ON: Easily Create an Infinite Number of Colorful Avatars – only $29!
Expires: March 19, 2017, 11:59 pm EST
Whether it's for personal use or commercial, this Mighty Deal, from ShockFamily  + ByPeople, can help you create hundreds of thousands of different avatars with just a few clicks. With over 1000 unique items and more than 5500 symbols, the sky really is the limit here as you mix and match everything from hair style to eye color to funky hats in order to build the perfect avatar.
Highlights:
Quickly and easily create hundreds of thousands of different avatars.
1400 unique items – sorted by gender.
5600 unique symbols.
Shapes and variations highly organized – hairstyles, ears, eyes, mouths, glasses, hats, etc.
Fully scalable Vector files.
Pricing:
Normally these 2 packs sell for a total of $58, but for a limited time only you can get both these packs for only $29! That's a savings of 50% off the regular price.
Click the BUY NOW button to start putting your heads together today!
Deal terms:
Delivered as an instant download, after completing your purchase.
You will receive a commercial license, which allows you to use these designs in both personal and commercial projects, including the use in software applications, designs and printed material that are either sold or given away.
The graphic files cannot be resold, shared, sublicensed, transferred or redistributed on it's own, in digital format.
Requires Adobe Illustrator.
read more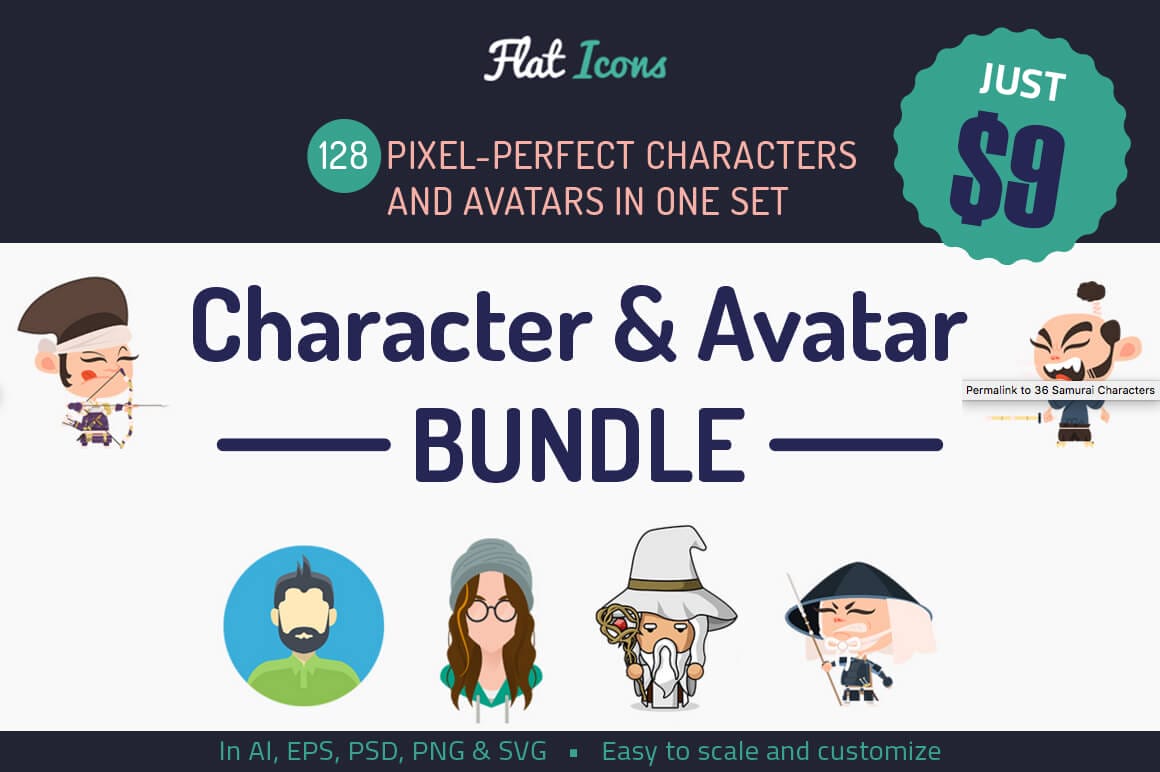 NOW ON: Add Serious Fun with 125+ Colorful Characters and Avatars – only $9!
Expires: March 25, 2016, 11:59 pm EST
Illustrations, no matter how small, can make a huge difference in whatever project you're working on. Whether you're in need of some fantasy-type characters or more general avatars, this mega bundle from Flat Icons has you more than covered! Made up of 4 individual collections, you'll get 60+ colorful avatars to use for anything from team member icons to testimonial graphics. You'll also get 60+ adorable fantasy and samurai illustrations to add some real character to your projects. At less than $10 for the full set, it'd be a total crime to pass up this Mighty Deal!
Highlights:
No matter your next project, grab a collection of 128 professional characters and avatars to add that personal touch!
Use the 65 unique avatars on a wide range of projects including: team members, icons, mascots, customers, testimonials and more.
Incorporate the 63 Fantasy and Samurai characters into your latest creative project to elicit the perfect feel and emotions.
Comprised of 4 different collections, this bundle covers a variety of themes from fantasy characters to regular men and women.
Fantasy characters even include front and side views for additional flexibility.
Easily scale these vector files up or down in size without worrying about losing any quality.
Customize any of these illustrations in your favorite editing program! Files come in multiple formats: AI, EPS, PSD, PNG and SVG.
Change up the colors, size, details and more to add your own touch.
Previews:
Pricing:
Normally, this full collection of illustrations sells for $42, but for a limited time only you can get all 128 icons, avatars and characters for a mere $9! That's 79% off the regular price!
Click the BUY NOW button and take these characters home today!
Deal terms:
Delivered as an instant download, after completing your purchase.
Files are delivered in PNG, AI, PSD, SVG and EPS formats.
May be used for both commercial and personal projects, for yourself or your client.
The icons / products may not be resold, sublicensed, rented, transferred or otherwise made available for use or detached from a product, software application or web page without express written permission from Flat-Icons.com.
Making modifications or alterations to any of our icons or other materials does not allow you to then sell or license them.
Your name and email address may be supplied to the client, for the purpose of delivering updates only.
read more