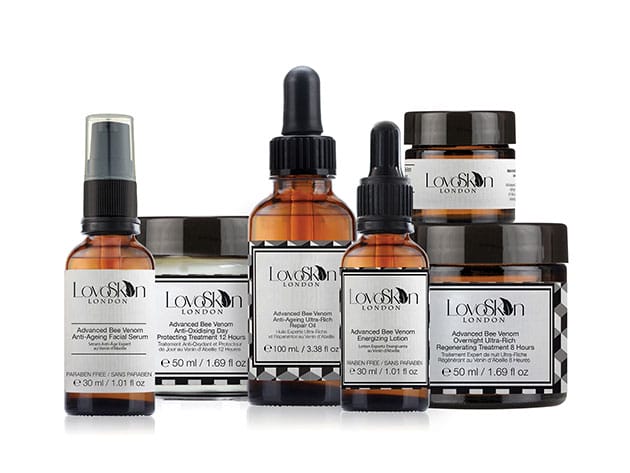 The Botox of Nature: Transform Your Skin with 6 of LovoSkin's Anti-Aging Skincare Essentials
Expires February 10, 2018 23:59 PST
Buy now and get 80% off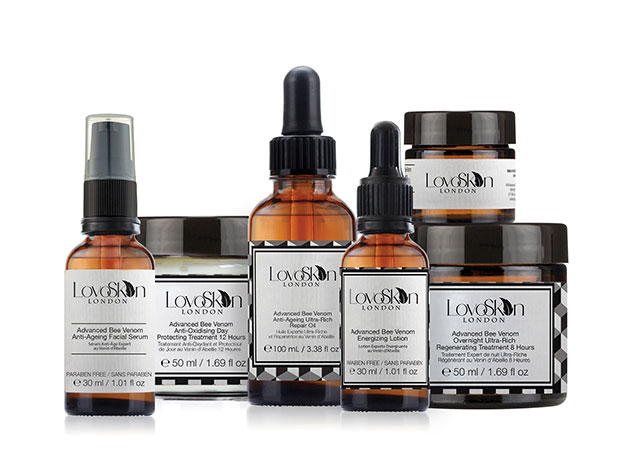 Bee venom is the hottest trend in anti-aging skincare, and no one is doing it better than LovoSkin London. This six part kit includes the best-selling treatments in one exclusive package:
The Anti-Aging Facial Serum is a concentrated anti-aging serum that illuminates and revitalizes skin. Bee Venom works in synergy with a unique complex of plant stem cells and Cyclopeptide-5 to help correct skin tone and plump and smooth the appearance of fine lines and wrinkles.
The Overnight Ultra-Rich Regenerating Treatment is a fast-acting, moisturizing cream that heals damaged skin overnight. Bee venom and neroli extract work together with naturally moisturizing ingredients – such as aloe vera and shea butter – to help prevent dry skin, and restore skin's natural moisture balance, so your skin remains soft and smooth.
The Anti Oxidizing + Protecting Day Cream is a non-greasy facial moisturizer that actively protects skin from environmental stresses, like extreme weather and pollution, that leave skin feeling chapped and uncomfortable. With ultra-moisturizing ingredients, like coconut oil, and reparative ingredients like Neroli oil (a natural antioxidant), this lightweight, non-greasy moisturizer works to create a protective shield that lasts throughout the day.
The Energizing Lotion is a replenishing lotion that actively protects and visibly restores the appearance and texture of skin. Bee venom stimulates blood circulation to the treated area to firm and plump skin, reducing the appearance of wrinkles. Manuka Honey, with it's naturally antimicrobial and healing properties, works to moisturize, refresh, and repair skin to keep it soft and supple.
The Rehydrating Eye Area Treatment is specially formulated for the delicate eye area. The active ingredients work together to leave the eye area more radiant, reducing dark circles and puffiness. Deeply hydrating ingredients work deep within the skin, smoothing fine lines and wrinkles, for fresher, younger looking skin.
The Ultra-Rich Repair Oil is a high performing oil that treats wrinkles, fine lines, and dullness to promote the natural renewal of skin.
read more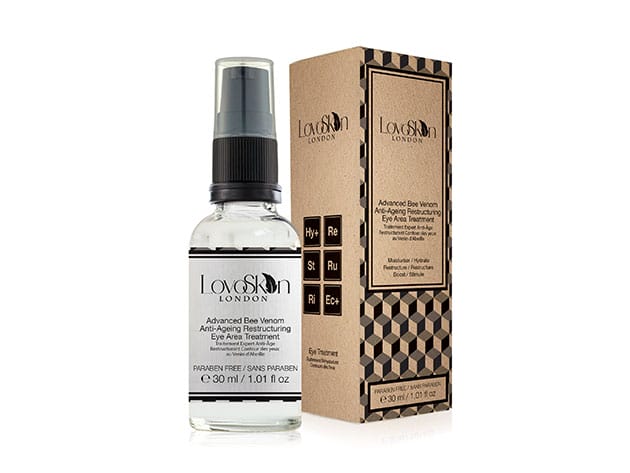 The Botox of Nature: Works to Reduce Dark Circles & Puffiness While Deeply Hydrating the Skin
Expires February 10, 2018 23:59 PST
Buy now and get 74% off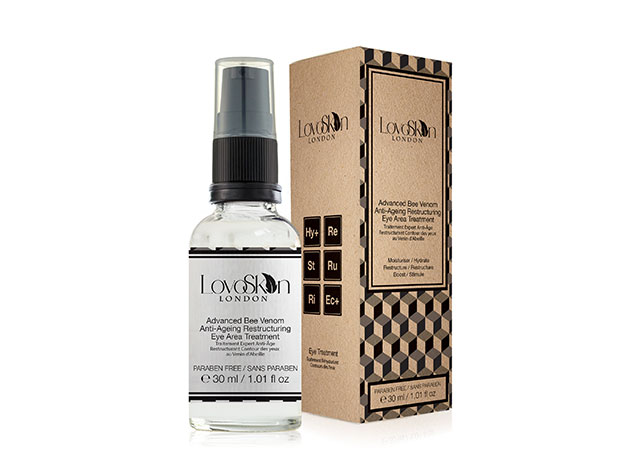 Bee venom is the hottest trend in anti-aging skincare, and no one is doing it better than LovoSkin London. This refreshing gel treatment instantly lights up the eyesas the legendary transformative energies of the Miracle Broth™ jump-start the skin's natural renewal process. Antioxidants within the Awakening Ferment help protect against the effects of the environment, fatigue, and stress as the Illuminating Ferment promotes a luminous new look. Return to the days when your eyes looked youthful, energized, and awakened!
30 ml
Directions: Twice a day, apply a small amount onto fingertips and gently sweep over entire eye area, including eyelids
read more